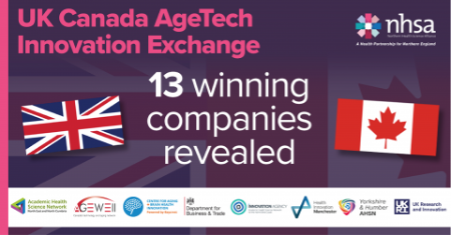 Tochtech is proud to have been one of just five Canadian health tech companies to have been selected for the coveted, in-person program of UK Canada AgeTech Innovation Exchange, organized by the by the Northern Health Science Alliance (NHSA). NHSA is a health and life sciences partnership between the leading NHS trusts, universities and Academic Health Science Networks in northern England that was established in 2011.  
Thirteen innovative companies from across the UK and Canada have been selected to develop their healthy ageing solutions as part of this international innovation exchange programme. The UK Canada AgeTech Innovation Exchange called on businesses with products that have the potential to improve the health and well-being of older people to apply to take part in an in-person international exchange visit.
Over 60 companies applied for a place in the coveted programme, with a total of eight UK companies and five Canadian companies invited to take part in the in-person exchange.  Over the coming months, the successful 13 companies will be supported by leading experts with in-depth knowledge of the healthy ageing innovation ecosystems within each country, from national healthcare providers, academia and industry. "This is a fantastic opportunity for Tochtech to learn from leading, international experts as we look to expand our global footprint and further solidify our presence in the UK and Europe" said Jessica Yang, CEO of Tochtech.